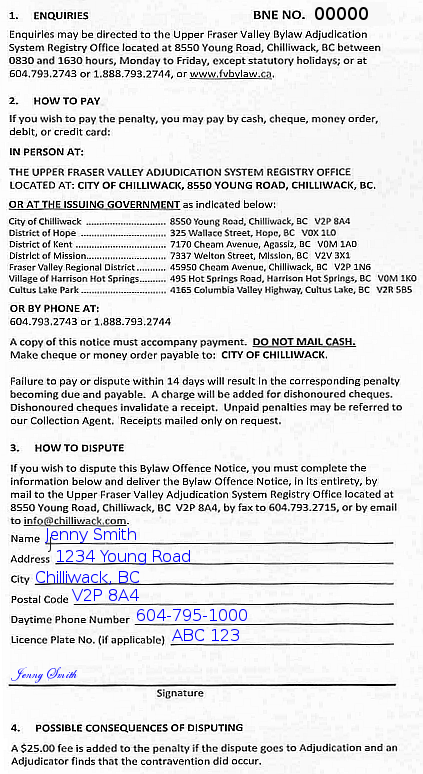 A person who receives a Bylaw Offence Notice (ticket), must dispute their ticket within 14 days of the date on which they receive the ticket, or presumed to have received the ticket.
The following procedures outline how to dispute your ticket:
1. Complete the back of the ticket with your relevant contact information.
2. The ticket then must either be dropped off at the City of Chilliwack, located at 8550 Young Road, Chilliwack, BC, V2P 8A4; or, at one of the other participating local governments.
a. District of Kent - 7170 Cheam Avenue, Agassiz, BC, V0M 1A0
b. Fraser Valley Regional District - 45950 Cheam Avenue, Chilliwack, BC, V2P 1N6
c. Village of Harrison Hot Springs - 495 Hot Springs Road, Harrison Hot Springs, BC, V0M 1K0
d. District of Hope - 325 Wallace Street, Hope, BC, V0X 1L0
e. District of Mission - 8645 Stave Lake Street, Mission, BC, V2V 4L9
f. Cultus Lake Park - 4165 Columbia Valley Highway, Cultus Lake, BC, V2R 5B5
3. You can also dispute your ticket by fax:
Please fax both the front and the back of the ticket to 604-793-2715.